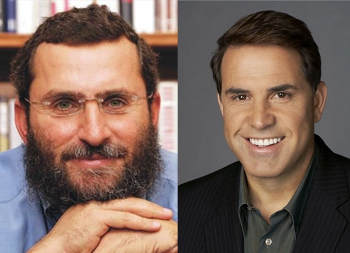 Rick & Rabbi Shmuley Boteach: A Public Dialogue
RICK SANCHEZ, TV NEWS ANCHOR, TO HOLD PUBLIC CONVERSATION WITH RABBI SHMULEY BOTEACH IN NYC AT CARLEBACH SHUL
December 30, 2010 – Rick Sanchez, longtime Television news anchor announced today he will hold a public dialogue with Rabbi Shmuley Boteach, "America's Rabbi" at the Carlebach shul, located at 305 West 79th Street (West End Avenue), in NYC on January 13th at 8PM in an event hosted by This World: The Values Network.  Sanchez was terminated by CNN in October 2010.
Tickets are available at: http://www.thisworld.us
Rick Sanchez has been a journalist and television news anchor for over 25 years, with over 8 years in cable news, first on MSNBC and then for 6 years on CNN. Most recently, he was the host of Rick's List, the first social-network driven newscast on the air anywhere in the country.  The success of Rick's List 3-5 P.M. caused CNN executives to temporarily slot the show at 8 P.M. where it quickly became one of CNN's most highly rated shows.  Sanchez also distinguished himself as an Emmy award winning correspondent and anchored CNN's Peabody Award-winning coverage of Hurricane Katrina as the levees broke in New Orleans.
"My career path was changed because of a misconstrued comment, which very few actually even bothered to listen to. I have spent the last few months concentrating on my family, but instantly jumped at the opportunity for a public dialogue with my friend, Rabbi Shmuley Boteach.  I look forward to addressing any and all questions and concerns of the Jewish community," said Rick Sanchez.
"Our community has enough problems without looking for anti-Semitism where it doesn't exist. Rick Sanchez was humiliated and his reputation dragged through the mud without being allowed to explain himself. The Jewish religion says that a man's most cherished possession is his good name. Rick deserves the opportunity to reclaim his. This evening will involve a conversation between the two of us that is intimate, honest, and hard-hitting. He and I share a love of family and community and I intend to honestly explore his values and his heart, and allow the community to decide."
The evening is part of an ongoing monthly conversation series between Rabbi Shmuley and people in the news. Recently Rabbi Shmuley sat down with Rosie O'Donnell   to discuss gay adoption and with Christopher Hitchens to discuss the afterlife. This World: The Values Network, is dedicated to renewing America through the promotion of universal Jewish values in the mainstream culture.On October 20, 2010, Jon Stewart told Larry King that Sanchez should have never been fired, calling the firing "absolute insanity," and that he was not "personally hurt." 
The actual recording of the controversial interview may be heard at: http://friendsofricksanchez.com/post/75
Recently, leading opinion makers have come out in defense of Sanchez.  They range the spectrum from Christopher Hitchens on the left to Lou Dobbs on the right and many others.  Friends of Sanchez have taken it upon themselves to create a website:  www.friendsofricksanchez.com
________
CONTACT: RONN TOROSSIAN, 212-999-5585, ronn@5wpr.com