Pioneering Social Media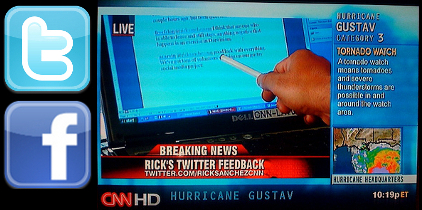 Did you know that Rick was the first news anchor to use Twitter?  In fact, he was the first to create a newscast driven by viewers.
One of Rick's greatest accomplishments is his role in pioneering the use of social media in the news.  In 2009, NPR famously wrote, "CNN news anchor Rick Sanchez was tweeting before Twitter was cool."  And that same year, CNET described Rick as, "… one of the most popular users on microblogging service Twitter, with nearly 40,000 followers and a Twitterholic rank in the top 20."
Rick first began using Twitter back in September 2008 while covering Hurricane Gustav.  Using social media, Rick was able to reach out to his viewers–and they responded.
As one viewer noted,
…Rick needed to spread the reach of CNN's coverage of the Hurricane. What better way to get more people watching CNN than to connect with people like me via Twitter, and then have me in turn spread the word of CNN being on Twitter during the storm.  Rick started using Twitter last Friday, I believe, and by the weekend, his use of Twitter spread like wildfire across the net. As a means of amplifying what Rick was covering, he started following people like me so that we would follow him… The outcome of Rick's use of Twitter? In Rick's words, 'Twitter rocks.'
Another wrote,
…Rick Sanchez has my attention. He's using Facebook and Twitter really effectively to engage his viewers during his broadcast… When last I checked Rick has 11,644 followers… and from what I gathered, Sanchez only launched this last week.
Today, Rick has close to 140,000 Twitter followers, 5,000 Facebook friends and over 30,000 Facebook fans.
Others in news use Twitter and Facebook as a means to plug their shows or blogs.  They'll send out links to things they've written, or they'll tell you to tune in to see a certain guest.  For instance, NBC's David Gregory believes that Twitter is just another marketing tool.
But Rick has always believed that social media is a two-way street that allows for what he calls "our national conversation."  It's one of the reasons that he follows so many of his fans on Twitter while other anchors and journalists only follow themselves.  Rick led the way at CNN:
For CNN, they started diving right into it when they put a host that some probably thought was more tech-savvy than the rest on the air. That host was Rick Sanchez and became known for the guy on CNN that integrated social networking features on his broadcast, specifically Twitter. In fact, on his show Rick's List, Sanchez actually made it pretty interactive – almost like it was "our" broadcast.
Rick brought people of every political persuasion and demographic into that national conversation.  A recent tweet from a 12-year old fan is a testament to Rick's success and his efforts at inclusion:
@RickSanchezNews I've met so many amazing people through social media, and I can talk politix even tho I'm 12, all thx to you.
For more on Rick and his role in the social media revolution in news, please check out:
The New York Times: What Are You Doing? Media Twitterers Can't Stop Typing
Business to Business: Business to Business: Twitter King: CNN Anchor Rick Sanchez Champions Micro-Blogging
Interview: Rick Sanchez Talks Social Media with Jared Leto
Mediaite: Rick's List: A New, Twitter-Happy CNN Show For Rick Sanchez
How Twitter-centric will Rick's List be? Politico's Michael Calderone reports that he hears that Sanchez "will be incorporating Twitter on the new show." Sanchez is himself a bit of a Twitter fanatic, with more than 117k followers and 3,900 tweet to his name. In another tweet about Rick's List, Sanchez took a 'powered by you' tack that sounds like it could have something to do with social media: "Every day "Rick's List" will be full of newsmakers and thinkers we- and u- think are relevant to CNN. My access = your access."
Mediabistro: Sanchez Talks "Marriage" Between Old and New Media on the "Menu"