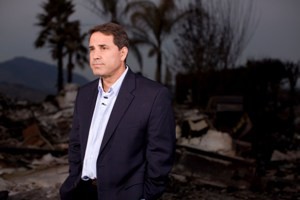 Abe Foxman of the ADL: Controversy "Put to Rest"
Abe Foxman, head of the Anti-Defamation League, says that the controversy surrounding Rick's comments, "can be put to rest."
Foxman and Rick met in late February, and Rick issued another formal apology for his comments which Foxman accepted.
Emmy award-winning reporter and TV Editor of Mediaite.com Mark Joyella revealed today in an exclusive article that over the past 6 months, Rick has been working to make amends by speaking with Jewish leaders from all over the country. Rick states, "I've personally apologized to them and done my best to learn from each of them."
Joyella also revealed for the first time Rick's recent meeting with Abe Foxman, the national director of the Anti-Defamation League.  During the meeting, Rick had an opportunity to personally express his regret over the comments, acknowledging that they were hurtful, offensive and apologizing unequivocally for making them. In a letter following the meeting, Rick wrote to Foxman saying:
My words were just plain wrong—wrong because they do not reflect what I believe, wrong because they do not reflect what is in my heart, and wrong because they conjure up some of the worst and most dangerous stereotypes of Jews, stereotypes that have been the cause of horrific atrocities committed against the Jewish people… It was offensive, and I deeply, sincerely and unequivocally apologize for the hurt that I have caused.
In response to Rick's letter, Foxman wrote:
I appreciate your willingness to look squarely at the incident that took place, to apologize for it, and to be willing to learn about the forms and threats of anti-Semitism… In my view, this letter should put the matter to rest. I hope that you will now be able to move on with your life and to work, as we do every day, to make this a better and more respectful world.
What's next? Rick said he will continue to work on improving Jewish-Latino relations. "I want to do my best to demonstrate my sincerity and make a difference. That's not something only for now or in just in the short term. It's a lifetime commitment on my part."
You can read Joyella's full piece here.